Apologies to all of my blog readers if the "Leave a comment" or "Post comment" area happen to be missing/disappear in most of my posts, especially to those who are 28 days older. It's my bad. I did not pay attention to my default settings. There is one setting that I need to untick in order for the comment area not to disappear in any of my older posts or pages.
For the benefits of other bloggers out there, here is how you can solve these issues if you happen to be using WordPress.org and wondering why the "Leave a comment" button is missing.
When you click or open any of my posts, you should be able to "Post comment" at the end of the post. Because of my default settings, the comments section disappeared after 28 days.

All you have to do, under your Settings/Discussion, is to UNTICK the box highlighted in the image above and that will solve your problem of "Post comment" area disappearing.
Don't forget to tick the boxes as shown in the image below to activate the comments section.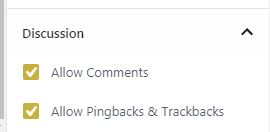 I hope you find this helpful.
Have a good day!
Cheers.