After 21 hours of long travel (7 hours from LHR-AUH and 14 hours from AUH-BNE), my wife and I finally arrived at Brisbane airport.
Tomorrow will begin the BILT ANZ 2018 which is expected to break the past BILT ANZ attendance. My understanding is, the current attendance already reached 490 and still counting.
If you are looking for a session where you are interested in transforming your Revit data to life, please come to my session and I'll have a live demonstration of the workflow.
Here is my agenda for the session:
First, I'll demonstrate the process of preparing the data you need using Revit schedules. I bet this part is the easiest one for all of you. Nothing is so much excitement about this.
Next, since Power BI works smoothly with Microsoft Excel, I'll use Excel to store our data-mined information from Revit.
After that, I'll create a simple Dynamo graph to automate the process of sending the information from Revit to the spreadsheet. Thus, eradicating potential human error caused by copy and pasting or manual typing.
And finally, I'll bring the data to life using Power BI. You'll all learn a basic understanding of how to build your Power BI project.
I hope to see you all in my session.
Once again, here are the details:
Date: Friday, 25 May 2018
Session: 2.5
Presentation Topic: Structural Data Mining Using Revit-Dynamo-Power BI Workflow
Presentation Time: 5:00pm – 6:15pm
Duration: 75 Minute Presentation (including question time)
Categories/ Level: Structure, Data Management, Autodesk Revit | All Levels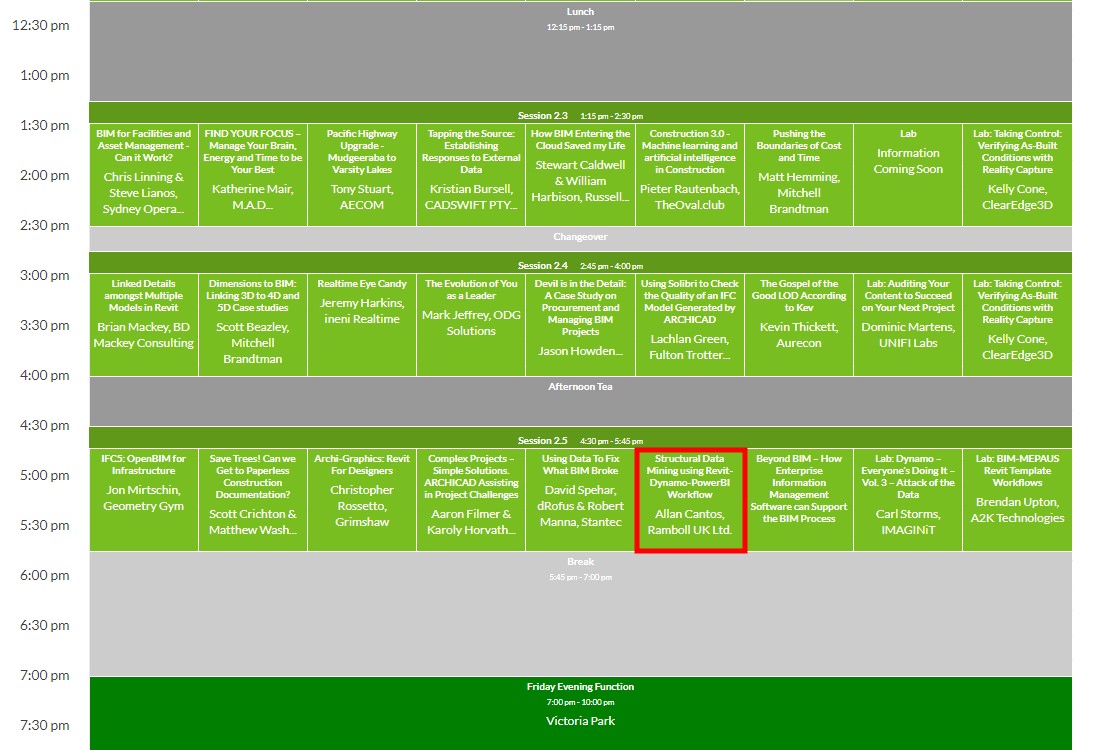 For the complete program, please visit: http://www.rtcevents.com/bilt/anz18/schedule/
Cheers,
Allan Cantos